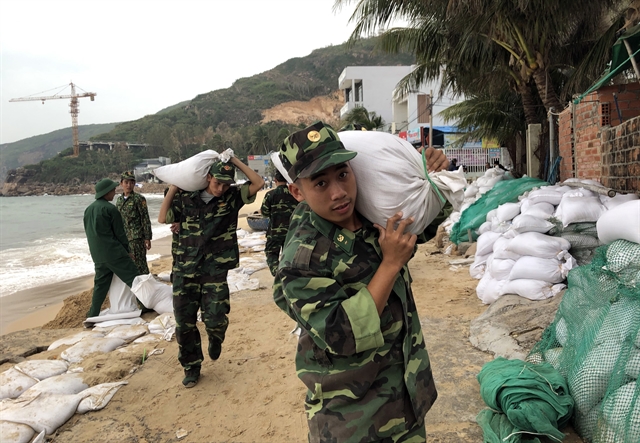 HÀ NỘI — Local authorities in the central provinces of Quảng Ngãi, Bình Định, Phú Yên and Khánh Hòa are planning to move more than 181,000 people from risk-prone areas in response to Typhoon Nakri, which is forecast to be the strongest so far this year in the East Sea.
Coastal areas in these provinces are forecast to be directly affected by the typhoon, which will make landfall in Việt Nam on Sunday night.
According to the National Centre for Hydro-meteorological Forecasting, at 1pm on Sunday, the eye of the typhoon eye would be about 170km off the coast of provinces from Bình Định to Khánh Hòa with sustained gusts of 90-100km per hour.
The storm was forecast to continue moving west at speeds of 10-15km per hour and make landfall in these provinces by 1am on Monday with wind speeds of 60-75km per hour.
Local authorities in Thừa Thiên Huế, Quảng Ngãi, Bình Định, Phú Yên, Ninh Thuận and Đà Nẵng banned fishing boats from heading out to sea on Saturday.
Students in Quảng Ngãi, Bình Định, Phú Yên and Khánh Hòa will be allowed to take a day off on Monday.
According to the National Committee for Natural Disaster Prevention and Control, border soldiers had been in contact with more than 47,300 boats and ships operating in the affected area.
Prime Minister Nguyễn Xuân Phúc has asked ministries, sectors and localities to stay vigilant and be prepared for the storm.
Nha Trang in Khánh Hòa Province planned to relocate more than 15,400 people at risk of landslides before 12am on Sunday in response to Typhoon Nakri.
According to Nha Trang's Steering Committee for Natural Disaster Prevention and Control, the city had 88 landslide-prone areas, mostly in the communes of Phước Đồng, Vĩnh Phương and Vĩnh Thái, as well as Ngọc Hiệp Ward.
Bùi Ngọc Pháp, vice chairman of Phước Đồng Commune's People's Committee, said 320 households with 1,277 residents needed to be relocated. Local authorities had prepared the communal meeting hall, primary schools and the Hòn Rớ border soldier station for residents to move to. Others have moved to stay in rented rooms or relatives' houses.
Nearly 2,000 people have been mobilised around the city to respond to the typhoon.
Water from six large reservoirs in Khánh Hòa was released on Sunday afternoon.
Deputy Prime Minister Trịnh Đình Dũng asked authorities in Nhơn Hải Commune, Quy Nhơn City, Bình Định Province to put the safety of local people first and urged for residents to be relocated.
14 families in the commune lost their houses when the fifth typhoon of the year hit in late October, causing damage to nearly 100m of sea defences. Hundreds of other houses along the coast are on the verge of collapse.
Dũng visited the area on Saturday and promised that the State would support residents who lost their houses.
He asked the Ministry of Transport to mobilise two ships to help the province in case of incidents at the sea.
Minister of Agriculture and Rural Development Nguyễn Xuân Cường on Saturday visited the Phổ Thanh sea dyke and Sa Huỳnh Port in Đức Phổ District, Quảng Ngãi Province to inspect the province's preparations for the typhoon.
Nearly 500 boats have docked at Sa Huỳnh Port, and fish cages have been moved to safe areas.
According to Nguyễn Tăng Bính, vice chairman of the provincial People's Committee, 96 boats and 2,290 fishermen were operating in the Trường Sa (Spratly) Archipelago. All of them had been updated about the typhoon.
Southern areas of the province and Lý Sơn Island are likely to be affected the most by the typhoon.
Minister Cường asked local people to reinforce their houses. Local authorities must relocate more than 13,600 people from risk-prone areas before Sunday noon and keep in contact with boats which had sought shelter in Philippine waters.
Typhoon Nakri is forecast to weaken to a tropical depression after making landfall in the central region, bringing heavy rain to the central, south-central and Central Highlands regions until Tuesday.
Rising sea levels and tides of 1.5-2.5m are forecast in coastal areas from Bình Định to Phú Yên. — VNS